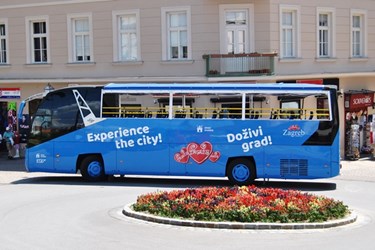 The visitors of Zagreb can experience the atmosphere and the charm of our city from three tour busses on three lines -
red, green and yellow
. The red line runs through the city centre, it is 12.5 km long and has six stops. The green line includes the broader city area, up to the lakes Jarun and Bundek and Maksimir park. It is 32.5 km long and has seven stops. The yellow line includes downtown of Zagreb, cemetery Mirogoj, parks Maksimir and Bundek, and runs through Novi Zagreb.
With one purchased ticket, the users can use all three lines from any stop for 24 hours. The busses are equipped with the virtual tour guide which explains the city sights on eight different languages (except Yellow line).
The price of the day ticket is
9,29 € (
HRK 70), and for children between 7 and 18 years of age
4,65 € (
HRK 35). The tour is free for children under 7 years of age but with a condition that there can be 3 children at the most with one adult. The tickets can be bought on the central Zagreb square from a recognizable booth. The start of the red line is at 10 and 12 a.m. and at 2 and 4 p.m. The green line starts at 12 a.m. and 3 p.m, and the Yellow line starts at 12. 30 a.m. and 14.45 p.m.
Bouth lines start from Bakačeva Street, below Kaptol!