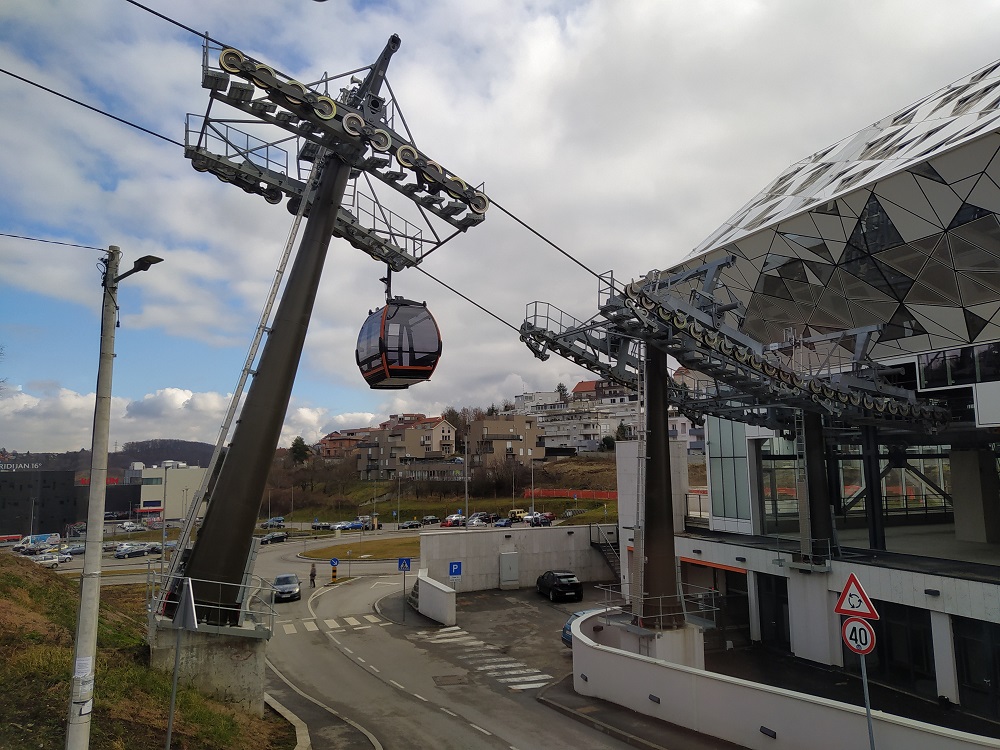 The new Sljeme cable car offers its passengers an impressive view of Zagreb and its surroundings. Cabel car route is 5,017 meters long and has 84 gondolas with 10 seats each. From the outside, gondolas are equipped with ski and sports equipment carrier. The duration of the drive from the departure station in Gračansko dolje to Vidikovac on Sljeme is from 16 to 22 minutes, depending on the speed of the ride, and it can carry up to 1500 passengers per hour.
The lower station is located next to the tram turnaround for line 15(Mihaljevac-Gračansko dolje) in Gračansko dolje, an in cable car zone there are bus stations for lines 140(Mihaljevac-Sljeme), 227(Svetice-Gornji Bukovac-Gračansko dolje), and 233 (Mihaljevac-Markuševec). Below the lower station, on the two underground floors, a public garage is located with over 200 parking spaces. Garage working hours are on working day from 9.30 to 20.30, and on Saturdays and Sundays from 8.30 to 20.30. The price of parking is 6 kuna per hour, and payment for parking is possible only with cards on the parking payment machines.
Ticket counters and toilets can be found on the ground floor as well as the area for gondola boarding. Storage room for cabins and space for their maintenance is located on the first floor.
The corner building is located north of the lower station and is 92 meters away from it. Its function is to change the direction of the cable car route by about 28 degrees compared to the route of the old cable car. It wasn't envisioned for boarding and disembarkation of passengers. Due to technological reasons, the travel speed is reduced to 2 m/s when changing direction.
The Brestovac intermediate station is intended for embarking and disembarking of the passengers as well as
The cable car route ends on the upper station which also has ticket counters, toilets, a control room, and other workspaces of the cable car.
A new cable car route is illuminated, covered with video surveillance and audio systems. The width of the corridor is 16 meters, the total slope length is 5017 m, and the height difference between the lower and upper station is 754 meters. On the route of the cable car, the Corner building was built, as well as the Brestovac intermediate station and 29 pillar places with 34 pillars, which are from 6.05 to 43.51 meters high, depending on the terrain configuration.